C
obra:
the ruthless terrorist group determaned to defeat GI Joe and rule the world vs.
OpFor:
Middle-Eastern fighters who take on all who want to take thier land.
Who Is Deadliest!!!!!!??????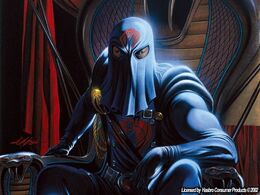 Cobra comes armed to the teeth with:
Short range: Tokarev TT-33
Mid range: Scorpion vz. 61
Long range: M-16
Explosive: Semtex
OpFor fires back with:
Short range: Desert Eagle
Mid range: Mini-Uzi
Long range: AK-47
Explosive: RPG-7
Weapon Pics
BATTLE:
Ad blocker interference detected!
Wikia is a free-to-use site that makes money from advertising. We have a modified experience for viewers using ad blockers

Wikia is not accessible if you've made further modifications. Remove the custom ad blocker rule(s) and the page will load as expected.