Two-Face: Half-faced former DA turned murderous mobster vs. Hammerhead: Hard headed crimelord of NY underworld. WHO IS DEADLIEST!!!???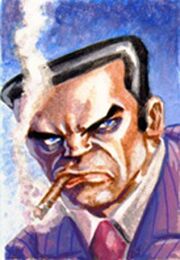 Two-Face shoots in with:
Short range: Stiletto
Mid range: Smith & Wesson Model 64
Long range: Tommy Gun
Special: Brass Knuckles
Hammerhead hits back with:
Short range: Ice Pick
Mid range: Glock 17
Long range: MAC-11
Special: Head
Weapon Pics:

Edit
Ad blocker interference detected!
Wikia is a free-to-use site that makes money from advertising. We have a modified experience for viewers using ad blockers

Wikia is not accessible if you've made further modifications. Remove the custom ad blocker rule(s) and the page will load as expected.